Alumni Book Club (Session #2)
This past spring, Seton Hill University launched a virtual Alumni Book Club as an opportunity for alumni to connect with fellow Setonians, enjoy reading, and discuss a variety of books. We are excited to share with you details for our next Alumni Book Club this fall.


Fall 2021 Alumni Book Club
We will be reading All the Light We Cannot See by Anthony Doerr.
Session 1: Tuesday, September 21 from 7-9pm, please read through Part Four: 8 August 1944.
Session 2: Tuesday, October 5 from 7-9pm, please read the remainder of the book beginning with Part Five: January 1941.
To ensure an enjoyable experience for all participants, please plan to attend both sessions.
While there is no cost to participate, members must acquire a copy of the book. Registration is limited to 30 participants, so please sign up here by Tuesday, September 14.
A Zoom link and discussion questions for our first session will be provided following registration.
Alumni Book Club members are responsible for following the Book Club Etiquette.


About the Book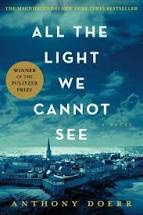 All the Light We Cannot See is a war novel written by American author Anthony Doerr, published by Scribner on May 6, 2014. It won the 2015 Pulitzer Prize for Fiction and the 2015 Andrew Carnegie Medal for Excellence in Fiction.
Set in occupied France during World War II, the novel centers on a blind French girl and a German boy whose paths eventually cross.
Marie-Laure lives in Paris near the Museum of Natural History, where her father works. When she is twelve, the Nazis occupy Paris and father and daughter flee to the walled citadel of Saint-Malo, where Marie-Laure's reclusive great uncle lives in a tall house by the sea. With them they carry what might be the museum's most valuable and dangerous jewel.
In a mining town in Germany, Werner Pfennig, an orphan, grows up with his younger sister, enchanted by a crude radio they find that brings them news and stories from places they have never seen or imagined. Werner becomes an expert at building and fixing these crucial new instruments and is enlisted to use his talent to track down the resistance. Deftly interweaving the lives of Marie-Laure and Werner, Doerr illuminates the ways, against all odds, people try to be good to one another.

About the Author
Anthony Doerr was born and raised in Cleveland, Ohio. He is the author of the story collections The Shell Collector and Memory Wall, the memoir Four Seasons in Rome, and the novels About Grace and All the Light We Cannot See. His newest novel, Cloud Cuckoo Land, will be published on September 28, 2021.
Doerr's short stories and essays have won five O. Henry Prizes and been anthologized in The Best American Short Stories, New American Stories, The Best American Essays, The Scribner Anthology of Contemporary Fiction, and many other places. His work has been translated into over forty different languages and won the Barnes & Noble Discover Prize, the Rome Prize, the New York Public Library's Young Lions Award, a Guggenheim Fellowship, an NEA Fellowship, an Alex Award from the American Library Association, the National Magazine Award for Fiction, four Pushcart Prizes, two Pacific Northwest Book Awards, four Ohioana Book Awards, the 2010 Story Prize, which is considered the most prestigious prize in the U.S. for a collection of short stories, and the Sunday Times Audible Short Story Award. All the Light We Cannot See was a #1 New York Times bestseller, remained on the New York Times Bestseller List for over 200 weeks, and is being adapted as a limited series by Netflix.

We look forward to having your participation in the Alumni Book Club. Please contact the Office of Alumni Relations at (724) 552-1310 if you have any questions.